Computer and Networks Assistance (Company)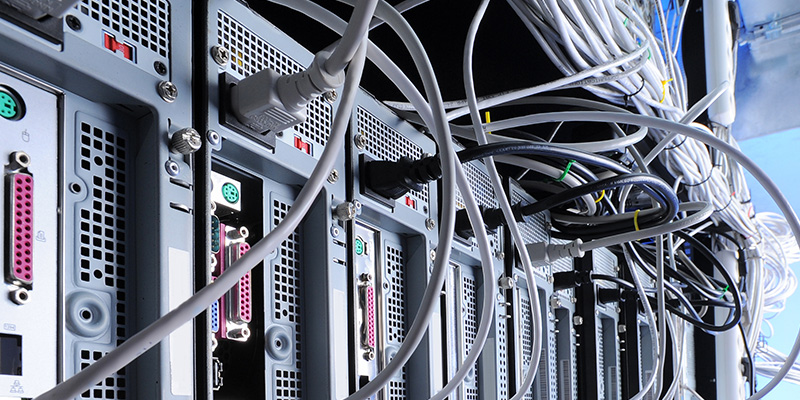 Gruppo DiGi has a professional structure able to guarantee the management of all company information systems .
A well-designed company network is essential for optimal work performance, but it is equally true that (like all equipment) IT systems are subject to breakdowns and obsolescence that can compromise their efficiency or, in the worst case, paralyze the whole business productivity.

This is why it is essential to make use of experienced and qualified professionals such as the DiGi Group technicians for the ordinary or extraordinary constant maintenance of:

Personal computers, notebooks and peripherals : hardware and software assistance to replace faulty or broken parts (hard disks, video cards, sound cards, power supplies ...), PC modernization, new installations, virus removal, data recovery, optimized configurations for resources .
Networks and servers : wiring optimization, system configuration and administration, network analysis and redesign.
Internet services : design, configuration, administration of e-mail systems and firewalls.
Security and privacy : design and configuration of data protection systems, storage and backup systems, antivirus and antispam.
The customer and his satisfaction are at the center of DiGi Group's interests . Always proposing ourselves primarily as consultants, we carry out initial inspections that allow us to evaluate the structure and the state of health of the company network in order to draw up an assistance plan able to prevent most problems (and, in some cases, recommending a new design).
Gruppo DiGi offers IT and systems assistance to companies of all sizes and to individuals . In order to respond to such diversified needs, we have developed different methods of intervention:
On-site intervention : a DiGi Group technician present at the company for a periodic check of the entire network or for a large-scale spot intervention.
Intervention in the laboratory : Gruppo DiGi has a laboratory in Binasco (MI) where our technicians can take care of computers with considerable cost savings.
Telephone intervention : DiGi Group offers telephone support for the resolution of simple daily problems.
Remote assistance : in many cases due to problems of medium size that do not involve the Internet connection, it is possible to request the intervention of a technician in remote assistance, saving the costs of exit.
DIGI SERVICES (on-site, laboratory, remote assistance, telephone) - DO YOU WANT AN IMMEDIATE INTERVENTION? Call us now at 0289926755/3295916840 or BUY HERE
PLANNING OF CIVIL AND INDUSTRIAL PLANTS
STRUCTURED WIRING AND CERTIFIED CIVIL AND INDUSTRIAL NETWORKS
STRUCTURED WIRING AND CERTIFIED CIVIL AND INDUSTRIAL ELECTRICITY
STRUCTURED WIRING AND TRADITIONAL FONIA CERTIFICATES
INSTALLATION AND MAINTENANCE TRADITIONAL TELEPHONE CONTROL UNITS
INSTALLATION AND MAINTENANCE TELEPHONE CONTROL UNITS VoIP
INSTALLATION AND MAINTENANCE OF ALARM SYSTEMS
INSTALLATION AND MAINTENANCE CLIMATE SYSTEMS
INSTALLATION AND MAINTENANCE LIGHTING SYSTEMS
INSTALLATION AND MAINTENANCE SAT ANTENNAS
COMPUTER MODERNIZATION
DAMAGE ANALYSIS AND REPLACEMENT OF DAMAGED COMPONENTS PC
DESIGN AND INSTALLATION OF BACKUP SYSTEMS
DATA RECOVERY FROM DAMAGED HARD DISK
PREVENTION AND SAFETY
LOCAL WIRELESS NETWORK CREATION
SOLUTION FOR TELELAVORO - REMOTE DESKTOP
LESSONS ON THE USE OF SPECIFIC PROGRAMS
VIRUS REMOVAL
SYSTEM LENS
HACKER PROTECTION
E-MAIL CONFIGURATION
SECURITY COPIES AND DATA SAVING
INTERNET CONFIGURATION
HOME BANKING PROTECTION
CONSULTING FOR PURCHASES
ANTIVIRUS INSTALLATION
SMARTPHONE PROGRAMMING
TECHNICAL ASSISTANCE PC, NETWORKS AND PLANTS - BINASCO, CASARILE, LACCHIARELLA, FIRST CASES, VERNATE, ROSE, ZIBIDO SAN GIACOMO, BESATE, BEREGUARDO, MOTTA VISCONTI, VIGEVANO, ABBIATEGRASSO, VERMEZZO, GUDO VISCONTI, SIZIANO, BADILE, ROZZANO.